Forget about the mainland, cast your anchor and blossom on the beautiful Île de Batz ! No need to be a sailor, it is only a 15-minute crossing to the island from Roscoff. There are daily regular crossings all-year-round (15 minutes) between Roscoff and the island. Timetables and prices are available in our Tourist Information Centres. Tickets are on sale on Roscoff Old Port or directly onboard. You can even turn a simple crossing into a lovely little cruise between April and September if you choose a departure from Moguériec picturesque little port, in Sibiril (timetables, prices and tickets on sale in the Tourist Information Centres of Cléder and Plouescat).
A Breton Island, Body and spirit
An island. The word itself makes us dream, calling out to our imagination... You won't be disappointed !
Have a browse on foot or by bike around the narrow streets and paths of the island.
As the seasons change, discover life at an easier pace.
As the seasons change, admire a blossom of colors and flowers !
And of course, don't miss out on the exquisite Georges Delaselle Botanical Garden.
Don't be mistaken ! The island is well and alive ! There is a variety of places to have a meal, a snack, a drink and to shop. Great place for a few days break !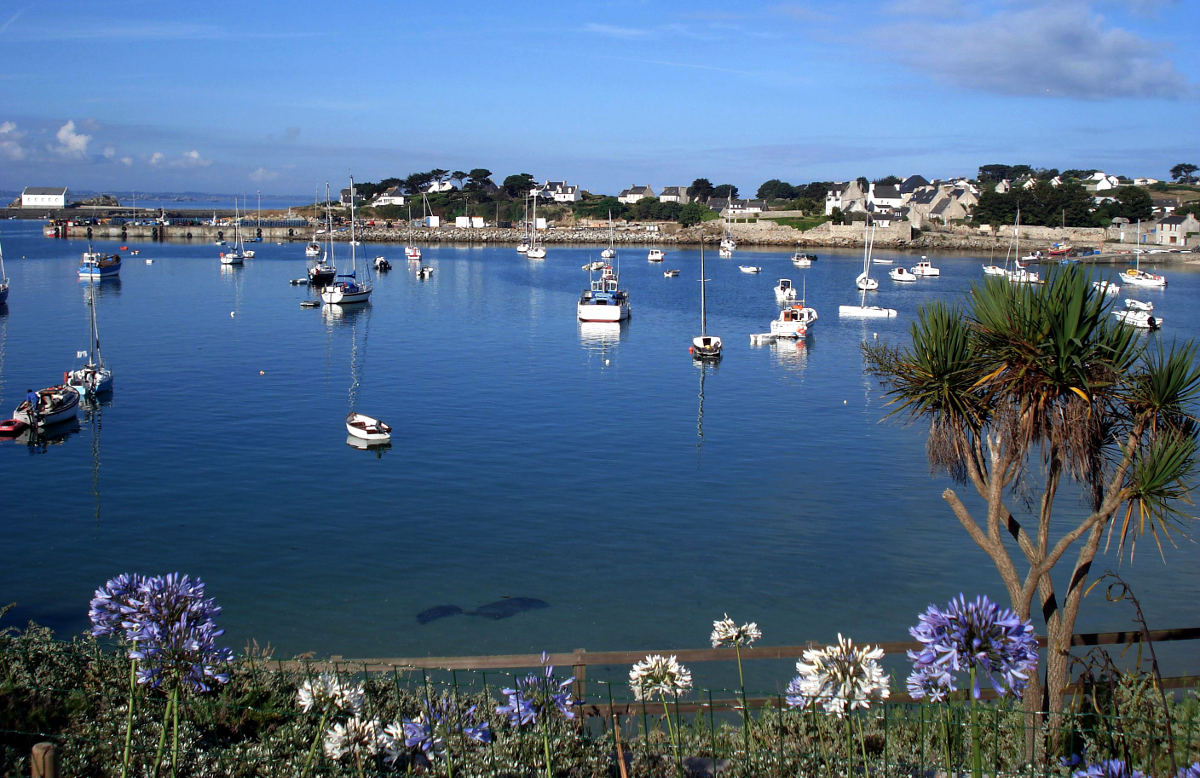 Several buildings and relics testify to the ancient settlement of the island. Look out for Bronze Age remains, the ruins of Saint Anne's chapel (to the east), Saint Pol's stole (in the church), the 19th-century lighthouse, the Captain's houses and the guardroom, they have all shaped the island's history...
To reach the island
Everyday and all year round there are regular ferries between Roscoff's port and the Île de Batz.
Timetable
From October 15th to March 31st :
Departure from the island : 7.45*am, 9am, 10:30am, 12:45am, 2:00pm, 4:00pm, 5:00pm and 6:00pm
Departure from Roscoff : 8:30*am, 10:00am, 11:30am, 1:30pm, 3:30pm, 4:30pm, 5:30pm and 6:30pm
*canceled on sunday and public holidays

From April 1st to June 30th and from September 1st to October 31st:
Departure from the island :7:45am, 9:00am, 10:30am, 11:20am, 1:00pm, 2:00pm, 3:00pm, 4:00pm, 5:00pm and 6:30pm
Departure from Roscoff : 8:30am, 10:00am, 11:00am, 12:00, 1:30pm, 2:30pm, 3:30pm, 4:30pm, 6:00pm and 7:00pm

From July 31st to August 31st :
Departure from the island : 7:00am, 8:00am and every 30mn until 7:30pm
Departure from Roscoff : Every 30mn from 8:00am until 8:00pm

Tickets are sold directly onboard the ferry (cash and cheque only), and at the ticket office (credit cards accepted) on Roscoff's old port from april to october.

Group discount (over 20 people). Information and quote : 00 33 7 62 61 12 12.